Many single women wonder whether they should date multiple men at once. Especially, when they use the online dating sites to find love, there are many good guys who are interested and they don't want to drop any. In other words, if you are in a case that a few guys who are interested in you, should or should not you date all of them at once?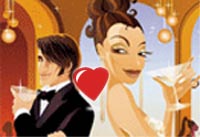 Most single ladies who date a few guys at once are those who don't have confidence in themselves. But it is a good idea to go out with a few guys at a time, in different date and time. They want to find a perfect man that leads to a relationship. That's fine. To find a perfect man, it does not take that long. They don't have to date these guys for years to find out the ideal one. Usually, between the fourth and tenth date, they find out who they want to drop out and the special someone they want to continue dating.
Within this time frame from first to ten dates, they have talked and known from each other. They have slept with each other and decided if they want to continue or not. Having sex is very important for women to decide which man is the best. In order to determine the one, most ladies pay attention to not only the outside, personality, but also the sex. Some men are perfect on the outside but have tiny or small "bananas", which distracted many women. So, sex is the most important thing that women pay attention to when they choose the life mate.
After ten dates, this is the time they decide to pick one man. If they continue  dating a few guys after ten dates, then they may end up with no one. Men are smart, you know? It is hard to do that after this time. Unless they share this to these men, there will be some misunderstandings that guys feel betrayed and cheated.
If you want to date more than one man at a time, being honest about what you are doing. There is no need to hide it. Just bring it up and share it with your men about that. Of course, most people like to have an exclusive relationship. It is a good idea to date a few guys at once to pick the best one but you should only have one relationship at a time.
Dating means sex, which is necessary. Dating multiple people until you find a good one that you connect with. When you spend time with many men, you find out more about who is the best for you. Don't fall onto myths that women who date many men at a time are considered sluts. No, don't believe in that. I personally don't recommend to have more than one relationships at once but dating two guys at a time is fine.
When you sign up a profile at an online dating website, there are many single men near you contact you. If they are all good, then I recommend you chat with all of them until you find the person you can connect with.